The RAF are continuing to take the fight to Daesh in Iraq and Syria.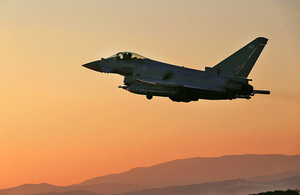 A Royal Air Force Typhoon departs on a mission supporting Operation Shader in support of the Counter-Daesh operations in Iraq and Syria. Crown Copyright.
Summary
Thursday 16 November – a Reaper bombed a group of terrorists firing on Syrian Democratic Forces in eastern Syria.
Saturday 18 November – Tornados destroyed a terrorist truck loaded with equipment in north-western Iraq.
Wednesday 22 November – Typhoons demolished a complex of buildings used to construct truck-bombs in northern Iraq.
Detail
With Daesh having suffered major defeats in both Iraq and Syria, Royal Air Force missions continue daily, focused on armed reconnaissance to identify remaining terrorist locations and support, as necessary, clearance operations on the ground by Iraqi troops and the Syrian Democratic Forces (SDF).
The SDF have continued their operations against extremists south-east of Al Mayadin, in eastern Syria, and an RAF Reaper provided close air support to them on Thursday 16 November. The first terrorist threat that the Reaper's crew identified was a vehicle being driven at very high speed towards the SDF positions. Fearing this to be a probable truck-bomb, the Reaper's crew tracked the lorry, ready to engage. However, no intervention was necessary, as the driver lost control of the vehicle, which crashed off the road and promptly exploded; it had indeed been a truck-bomb. The Reaper subsequently spotted a group of terrorists opening fire on the SDF; a GBU-12 guided bomb quickly eliminated this threat.
On Saturday 18 November, Tornados from RAF Akrotiri patrolled over north-west Iraq. Another coalition aircraft identified a Daesh truck, loaded with equipment, concealed under cover some 35 miles west of Sharaq. The Tornados were requested to conduct an attack with the very precise Brimstone missile, and did so successfully, destroying the vehicle.
Intelligence identified a complex of buildings in northern Iraq, some 30 miles west of Sharqat, as a truck-bomb factory. Two Typhoons bombed the target site with six Paveway IV guided bombs on Wednesday 22 November; two weapons demolished a large workshop, while single bombs dealt with the four other, smaller buildings.
UK contribution to the fight against Daesh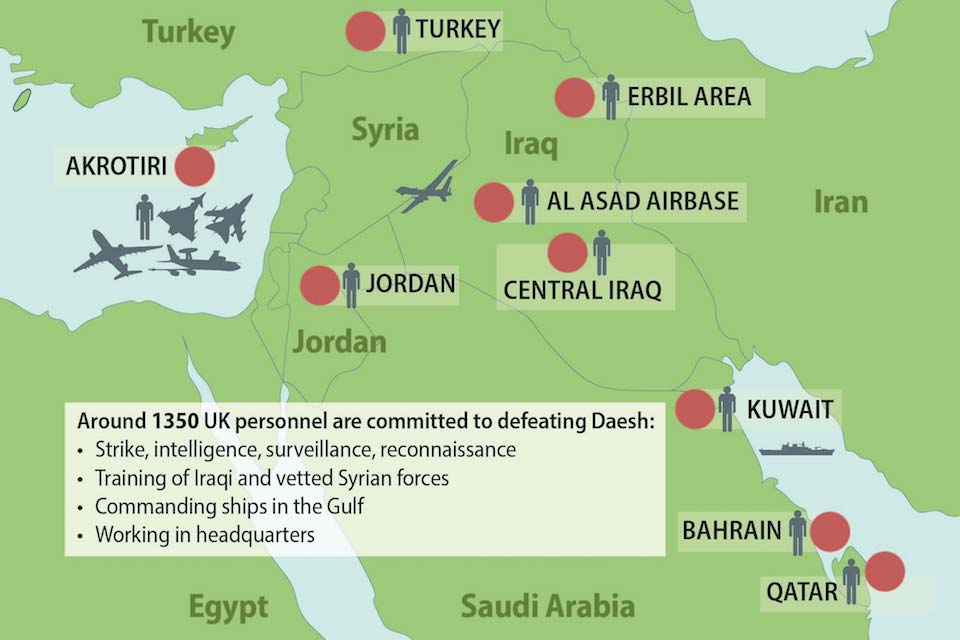 Map of UK forces committed to Operation Shader
Campaign against Daesh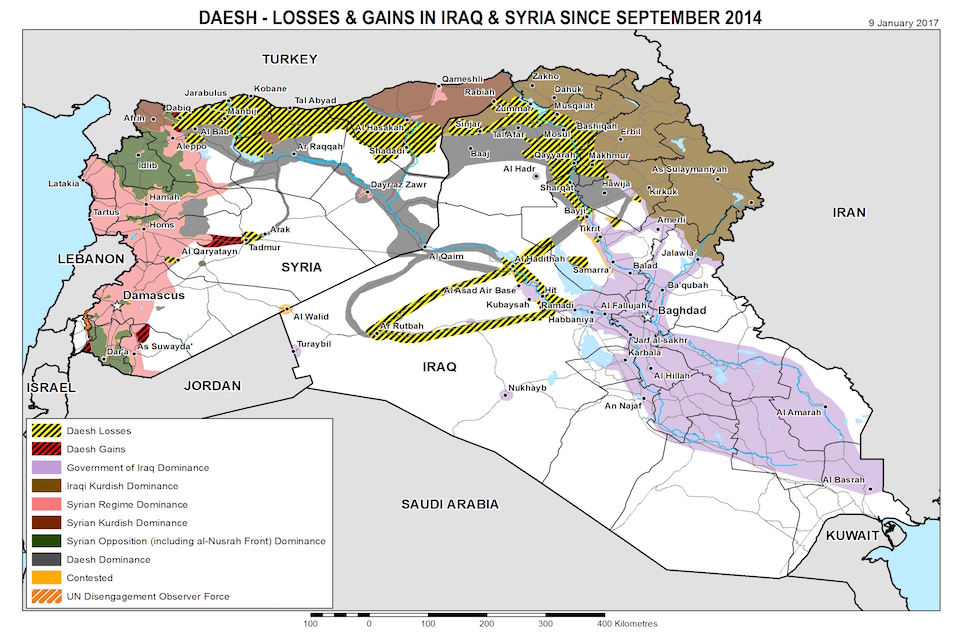 Map of Daesh losses and gains in Iraq and Syria since September 2014
Previous update
Wednesday 1 November: Royal Air Force Tornado GR4s, based at RAF Akrotiri and supported by a Voyager air refuelling tanker, flew an armed reconnaissance patrol over western Iraq. A coalition surveillance aircraft identified a group of terrorists gathered at a command post some miles to the north-west of Al Qaim, close to the Syrian border. Our aircraft attacked using two Paveway IV guided bombs; one demolished the command post building, whilst the second weapon accounted for several terrorists outside, along with their vehicles.
Thursday 2 November: Tornados conducted operations in the same area, and successfully bombed a building in which a Daesh observation post was stationed, attempting to direct mortar fire against Iraqi ground forces.
Saturday 4 November: two Tornados patrolled the other side of the border, in the far east of Syria. A mortar team was identified north-east of al Mayadin and successfully bombed. The Tornados then used a further Paveway IV to collapse the entrance to a terrorist tunnel nearby.
Sunday 5 November: Two flights of Typhoon FGR4s, armed with Paveway IVs, flew similar missions over eastern Syria. One flight eliminated a mortar team near the border town of Abu Kamal, whilst the second pair of Typhoons successfully conducted four phased attacks against a tunnel complex near Al Mayadin.
Thursday 9 November: Two Tornados used a Brimstone missile and two Paveway IVs to destroy a terrorist vehicle and stockpiled supplies in the deserts of western Iraq.
Saturday 11 November: A pair of Typhoons patrolled over northern Iraq. Three improvised explosive devices had been identified, dug into embankments alongside roads around twenty miles north-west of Bayji, and the Typhoons were tasked with the safe destruction of these deadly booby-traps. Each was hit in turn with a Paveway IV.
Sunday 12 November: A Reaper remotely piloted aircraft operating over eastern Syria similarly disposed of another booby-trap left behind by the terrorists – an armoured truck-bomb parked on the edge of a road some twenty miles south-east of Al Mayadin. This was struck by a GBU-12 guided bomb and destroyed.
Details of previous airstrikes can be found here.
For more information see Daesh: UK government response page on GOV.UK