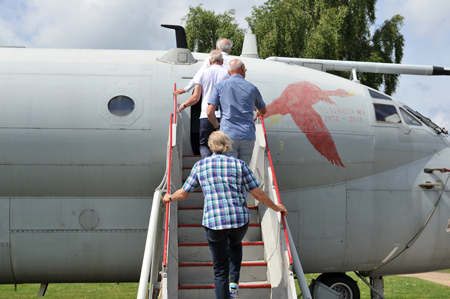 Step on board the Nimrod and learn about its intelligence gathering role in the Royal Air Force. You will gain an insight into the history of the aircraft, hear about the crews on board and get to see some of its sophisticated surveillance equipment.


Nimrod Tours are available: 


Saturday 7 October - Sunday 8 October 
Saturday 14 October - Sunday 14 October 
Saturday 21 October - Sunday 29 October 
Nimrod Tours cost £5.00 per person (booking fee applies of 50p per person).  Tours last 15 minutes (max 6 people per tour) and morning time slots can be pre-booked in advance to guarantee availability.


Afternoon Tours may be available on the day on a first come first served basis, subject to availability. 


Please note: All children on Nimrod Tours need to buy a ticket and be accompanied by an adult. Nimrod Tours are not recommended for children under the age of 8.You can keep up to date on all the Cosford news and events by subscribing to our monthly e-Newsletter 
here.