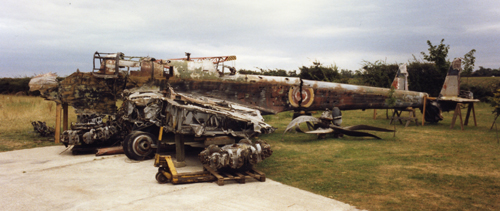 Lecture Time: 7.00pm

Duration: 45 minutes with time for questions after and then the audience will be welcome to visit the Conservation Centre from 8.00pm – 9.00pm

Tickets Cost: £7.50 per person (50p booking fee applies)

On the evening of the 4 September 1942, Hampden Bomber P1344 (PL-K) took off from Sumburgh in the Shetland Islands for a destination in northern Russia.  In the early hours of 5 September the aircraft flew slightly off course, in the vicinity of a Luftwaffe base.  The Hampden received ground fire and the crew observed two Bf109's taking off. The hostile aircraft attacked the Hampden which resulted in the aircraft carrying out a crash landing in the wilderness of the Kola Peninsula.

The RAF Museum Cosford will be holding a talk covering the known history, its final flight and what happened to the crew on-board.  During the talk, the audience will be introduced to relatives of the Hampden crew members who have visited the Museum over the years to view progress on the aircraft and to share information.  There will also be an opportunity for the audience to ask questions. 



Following the talk, attendees will be invited to the Conservation Centre to get up close to the aircraft, currently being restored. The Hampden is one of the Museum's longest running conservation projects, which has progressed considerably over the last year.  As one of only three examples of the type remaining, the significance of this project is huge.